F

e

n

g

S

h

u

i

C

h

r

i

s

t

m

a

s




Decorating

December

2022
Hexagram # 51
"Thunder"
The Month of the Water Rat
Remember, It is always best to consult with a proficient Feng Shui practitioner to know more of how our different stars combine and collide each year!

Follow our posts at our Facebook page at:

https://www.Facebook.com/Balance Feng Shui and Nutrition

References: Master Kevin Chan, Richard Wilhelm, Joey Yap Academy, Beth Grace, Christian I-ching; Feng Shui Store;
This page is entirely built with Webstarts Copyright 2019
Disclaimer
Last updated: August 14, 2019
The information contained on https://balancefengshuinutrition.com/ website (the "Service") is for general information purposes only.
Balance Feng Shui & Nutrition assumes no responsibility for errors or omissions in the contents on the Services
The contents of Balance Feng Shui & Nutrition, such as graphics, texts, images, information and other materials contained in the Balance Feng Shui & Nutrition website ("content") are for informational purposes only. In no event shall Balance Feng Shui & Nutrition be liable for any special, direct, indirect, consequential, or incidental damages or any damages whatsoever, whether in an action of contract, negligence or other tort, arising out of or in connection with the use of the Service or the contents of the Service. Balance Feng Shui & Nutrition reserves the right to make additions, deletions, or modification to the contents on the Service at any time without prior notice.
All Medical Nutrition Therapy information provided here are from a team of professional Registered Dietitian Nutritionists (RDN) who are registered by the Commission on Dietetic Registration in the state of California USA . These information are however, not intended to be a substitute for a medical diagnosis by your Medical Physician. Always seek the advice of your Medical Physician and qualified professional healthcare providers with any questions you may have with a medical condition
This Disclaimer for Balance Feng Shui & Nutrition has been created with the help of TermsFeed.
Balance Feng Shui & Nutrition does not warrant that the website is free of viruses or other harmful components.

This month, we reach the peak of the Yin months with the Winter Solstice arriving on December 21st at 4:48 pm. The Christmas decorations ( lights, bells, tinsels, red ribbons) which we add inside our homes and to our external environments certainly creates the balance... it adds the needed Yang energy into our homes as we celebrate this festive season
Here are some tips for our Christmas decorations placement for the year 2022:
The Best place to put our Christmas Tree:
Figure from Feng Shui Store
North – This is not a good sector for Christmas trees and candles in this year. If you do place a tree here, please avoid too much red and orange and introduce metal colors ( gold and silver motiff ~ tinsels, bells gold colored christmas balls & ribbons) on the tree.
Northeast – If you plan to place a tree here, consider to use a lot of green colors and avoid burning candles here.
East- This is a great area to place your Christmas tree this year! Use a lot of wood, greens and lights!
Southeast – Not a good sector for Christmas trees and candles this year. If you do place a tree here, avoid too much of the 'fire colors' and use a lot of green colors!
South – Not a good place to put up the tree here this year, but if you decide to put the Christmas tree at the South, use a lot of metals silver, gold colors and tinsel to mitigate star 5 which is visiting the sector for the month.
Southwest – If possible, do not put up the tree at the SW this year.
West – Another great area for lights and Christmas tree and decorations this year. ~ but avoid burning candles.
Northwest – This is not a good sector for Christmas trees and candles this year, however, if you do place a tree here, please avoid too much red and orange colors and use metal colors on the tree.
Center – Generally, we do not recommend to place Christmas trees and candles at the center since this will disrupt the flow of energy throughout the home. but if your home or workplace is of an open plan design, and you do place a tree here, avoid too much fire colors and use shades of metal, gold and silver colors. Remember not to pound nails on the walls in order not to disrupt star 5 which is visiting the Center this year.
Have a Merry, Healthy and Prosperous Christmas and remember to always Keep Safe!
~ above -'CHÊN' - The Arousing~ Thunder
~ below 'CHÊN' - the Arousing ~ Thunder



THE IMAGE





The shock that comes from the manifestation of God within the depths of the earth makes man afraid, but this fear of God is good, for joy and merriment can follow upon it.
When a man has learned within his heart what fear and trembling mean, he is safeguarded against any terror produced by outside influences. Let the thunder roll and spread terror a hundred miles around: he remains so composed and reverent in spirit that the sacrificial rite is not interrupted.
This is the spirit that must animate leaders and rulers of men—a profound inner seriousness from which all terrors glance off harmlessly!
~ Richard Wilhelm



There is a time...
-To expect a great manifestation of God.
-To understand that this manifestation will cause shock and fear.
-To be reassured that the shock will be followed by rejoicing.
-To look within for the Wisdom to guide one in addressing the terror of the Thunder.
-To recognize the thunder for what it is, a visible manifestation of a great change.
-To welcome the Thunder with calmness and acceptance.
-To continue honoring the religious traditions.
Now is that time.
~ Christian I-ching
North Sector~ stars 1 & 6



The energy at the North is good for establishing connections and networking. The Hetu combination works well for those desiring promotion or advancement in career.
When activating the sector, remember NOT to use ground-breaking activities and renovations since this will provoke the 3 killings star which is still visiting the sector this year.
NorthEast Sector~ stars 8 & 4



The NE is another great sector to activate if you need to prepare for some higher learning, assignments or research. The energy will enable you to improve on your knowledge about finances, on better return of investments. Remember though that it may have been a long and gradual process, so take this opportunity to achieve results, especially for those who desire to close sales transactions.
Remember to keep the NE 3 quiet ( Grand Duke sector) if you wish to activate the NE this month



East Sector ~ stars 3 & 8




We have another Hetu combination (for Wood) at the East this month which is ideal for those who plan to build up and grow in certain aspects of their lives. The energy at the sector is that of rewards for resilience and physical stamina, especially for those who are willing to work hard.
If your house has an opening ( door or window) at the East, North and SW, simultaneous activation of these sectors
(minimum of 5-6 hours) ~ by opening the doors or windows, plus working in one of the sectors, (SW or East), placing water with pump at the North and running an electric fan ( SW or East) on an appropriate date will be auspicious for wealth and prosperity.

Southeast Sector ~ stars 4 & 9
The SE is another good sector to activate for enhancement of knowledge, comprehension and understanding. The energy at the sector will also provide increased likeability.

South Sector ~ stars 9 & 5

Star 5 flies to the South this month rendering the the sector with explosive energies for instability, hot temperedness and stubborness! It is best to leave the sector alone for this month and delay your big decisions if you are emotional or angry if you need to use the sector often.

Southwest Sector ~ stars 2 & 7


Another Hetu combination of Fire at the SW sector gives us energy for increased money generating activities! The sector is good for people who can persuade and establish a trend for a mass of people to follow ~ Influencer!
Do not activate SW 3 - Monkey when you wish to activate the SW sector this month since this is the year breaker
West Sector ~ stars 7 & 3
We have a "sum of ten" at the West this month which endows us energy for resiliency in generating money and wealth. It can help increase our convincing ability which is ideal for those in sales and for those involved in the law and of handling court litigations. When activated, it also enhances our ability to work together harmoniously with others!
Northwest Sector ~ stars 6 & 2


The NW will provide one the energy to learn how to control a big group of people, and how to use power with constraint. However expect some power struggle.
As we enter the month of December, the element of Water is at its strongest and highest energy. Metal
is weakening, Wood is gaining momentum whereas Fire and Earth energies are now at their lowest levels this time of the year.
The natural element of the North 2 sector where the rat resides is Yang Water; and it further amplifies the Water energy of this year of the Yang Water Tiger.
Water flows without restraint, its movement is often difficult to control. Imagine being lost at sea, with the huge horizon filled with endless deep water, much more if there are surging, and breaking torrents of gigantic waves!
Water in enormous, uncontrolled amount can evoke panic and fear.
As the hexagram of the month advises, similar to arousing thunder that also evokes fear, we have to realize that fear and uncertainties can be visible manifestations of great changes which are about to come, so we must begin to plan and prepare ourselves both inside (spiritual) and out!
After all water is also the element for wealth energy!
Spiritual preparations, acts of charity towards others, gathering and celebrating with your friends and family, are all fire energies that can balance water.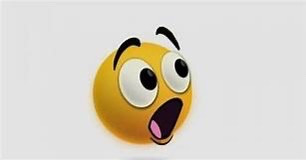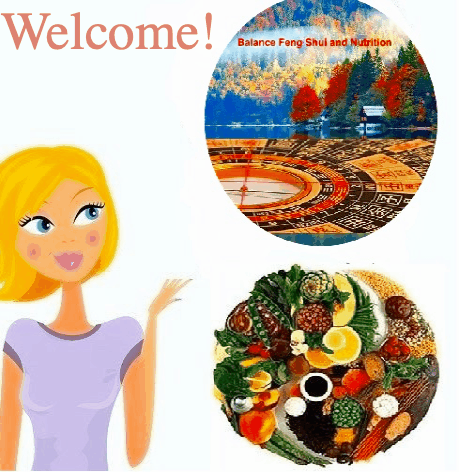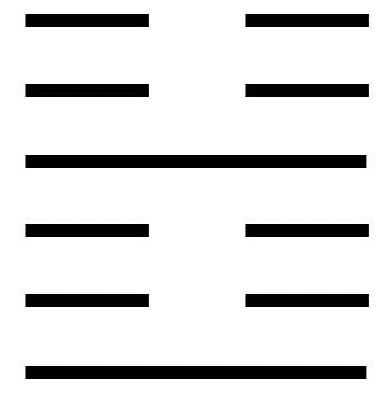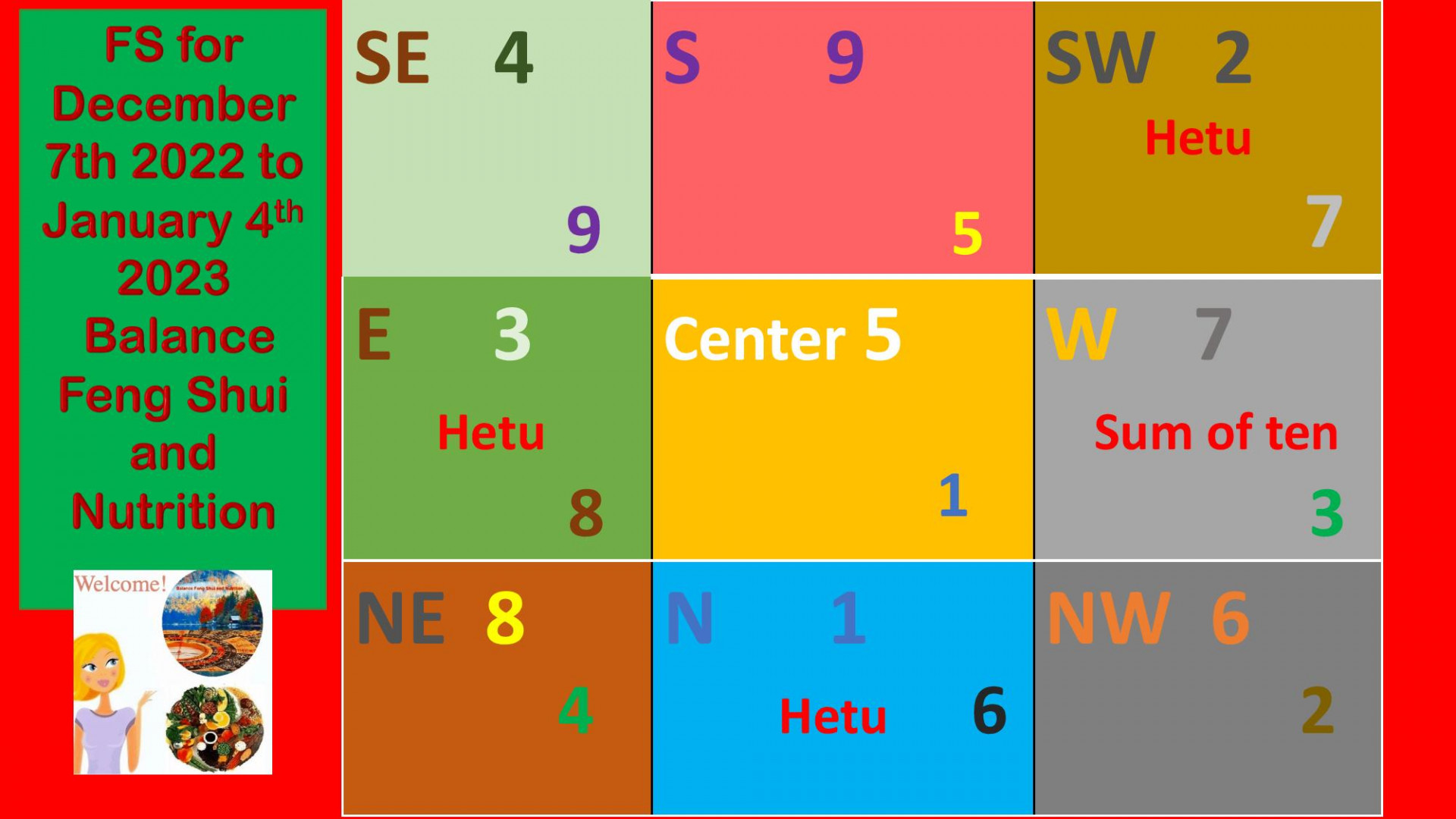 Here is an analysis of the Monthly Flying stars combinations for this month of December 2022. The big stars are the annual stars and the small stars on the lower right are the monthly stars.
December brings us a number of lively and energetic sectors with Hetu combinations at the North, East and Southwest sectors and a Sum of ten at the West!
Remember the energy in the sector that has your personal Gua number (personal life sector) automaticlly bestows you the energy for the month, in addition to the sectors that you decide to activate to achieve your goal.